Cyber Security
Fortify Your Digital Fortress with EmploymentExchange.com's Cybersecurity Services!
In an era of evolving cyber threats, securing your digital assets is paramount. EmploymentExchange.com is delighted to introduce our robust Cybersecurity Services, designed to safeguard your business from potential risks and vulnerabilities. Elevate your defense strategy and protect what matters most with our comprehensive cybersecurity solutions.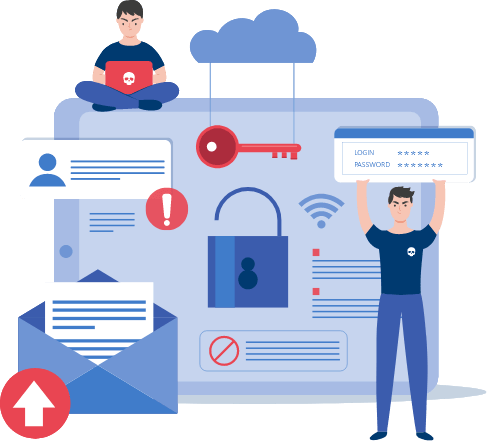 Why Choose EmploymentExchange.com's Cybersecurity Services?

Proactive Threat Management
Stay one step ahead with our proactive approach to threat management. Our cybersecurity experts employ advanced tools and strategies to identify and neutralize potential threats before they impact your operations.

Tailored Solutions for Your Business
We understand that every business is unique. Our cybersecurity services are not one-size-fits-all; instead, they are tailored to meet the specific needs and challenges of your industry and organization.

Collaborative Security Planning
Cybersecurity is a collaborative effort. Work closely with our experts to develop a security strategy that aligns with your business objectives, ensuring a holistic and effective defense.

Cutting-Edge Security Technologies
Leverage the latest in cybersecurity technology. Our services incorporate cutting-edge solutions to keep your systems, networks, and data secure in an ever-evolving threat landscape.
Our Comprehensive Cybersecurity Services Portfolio
Vulnerability Assessments
Identify and address potential weaknesses in your systems and networks through thorough vulnerability assessments, reducing the risk of exploitation by cyber threats.
Endpoint Security Solutions
Protect every endpoint with robust security measures. Our solutions ensure that all devices connected to your network are shielded against malware, ransomware, and other malicious activities.
Incident Response and Forensics
Be prepared for the unexpected. Our incident response and forensics services help you respond swiftly to cybersecurity incidents, mitigate damage, and prevent future occurrences.
Network Security Architecture
Design and implement a secure network infrastructure. Our experts create robust network security architectures to defend against unauthorized access and data breaches.
Identity and Access Management (IAM)
Ensure the right individuals have the right access. Our IAM solutions help you manage user identities, access permissions, and authentication processes to enhance overall security.
Security Awareness Training
Empower your team to be your first line of defense. Our security awareness training programs educate your staff on cybersecurity best practices, reducing the risk of human error.
Ready to Fortify Your Cyber Defenses?
Take a proactive stance against cyber threats with EmploymentExchange.com's Cybersecurity Services. Express your interest, and let's build a customized defense strategy that protects your digital assets and ensures your peace of mind.
Schedule a consultation with one of our IT Experts.