App Development & Management
Are you ready to propel your business into the digital future? Employment Exchange LLC is excited to introduce our comprehensive App Development and Management Services, designed to revolutionize your digital presence and ensure sustained success in today's dynamic marketplace.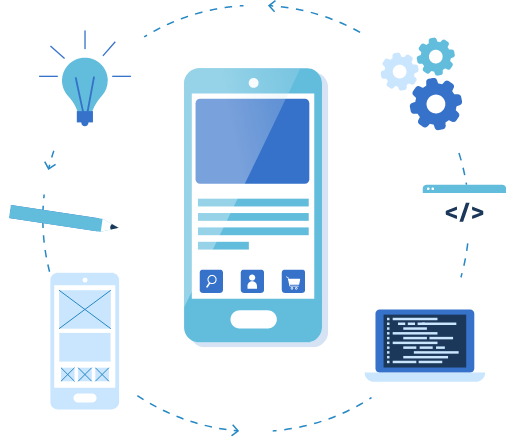 Why Choose EmploymentExchange.com App Development and Management Services?
Innovative Solutions for a Digital Era
Experience app development that transcends the ordinary. Our team of experts specializes in crafting innovative solutions that align with your business goals and captivate your audience.
End-to-End App Lifecycle Management
From concept to post-launch support, we offer end-to-end app lifecycle management. Our services cover everything from strategic planning and design to development, deployment, and ongoing maintenance.

User-Centric Design
Your users are at the center of everything we do. Our design philosophy focuses on creating seamless, intuitive experiences that keep your audience engaged and delighted.

Collaborative Approach
Collaboration is key to success. Work closely with our dedicated team, ensuring that your vision is not just realized but enhanced through our collaborative development process.
Our Dynamic App Development and Management Services Portfolio
Custom App Development
From unique business applications to customer-facing mobile apps, our custom app development services are tailored to meet your specific needs and industry requirements.
Cross-Platform Mobile App Development
Reach a broader audience with cross-platform mobile app development. We leverage cutting-edge technologies to ensure your app functions seamlessly across various devices and operating systems.
Web App Development
Elevate your online presence with web app development that combines functionality and aesthetics. Our solutions are optimized for performance, ensuring a superior user experience.
App Modernization and Upgrade
Keep your apps relevant and secure with our modernization and upgrade services. We enhance and optimize existing applications to meet current industry standards and user expectations.
App Maintenance and Support
Our commitment doesn't end at launch. Benefit from reliable app maintenance and support services, ensuring your application runs smoothly and efficiently throughout its lifecycle.
Cloud Integration for Apps
Leverage the power of the cloud. Our experts seamlessly integrate your applications with cloud services, ensuring scalability, flexibility, and enhanced performance.
Ready to Ignite Digital Transformation?
Seize the opportunity to redefine your digital landscape with Transnational Software Services Inc.'s App Development and Management Services. Express your interest, and let's embark on a journey of innovation and success.
Schedule a consultation with one of our IT Experts.