Workforce Solutions
Are you ready to revolutionize the way you manage talent and drive workforce excellence? Look no further! Employment Exchange LLC is thrilled to introduce our vibrant Workforce Solutions, designed to empower your organization with unparalleled efficiency and success.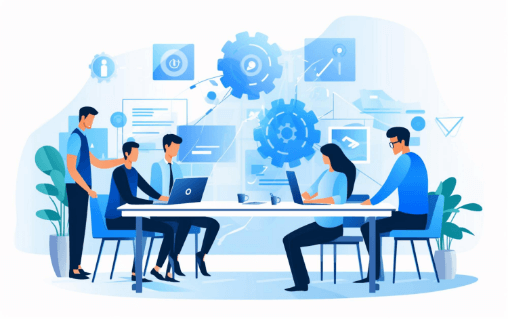 Why Choose Employment Exchange LLC's Workforce Solutions?
Strategic Workforce Management
Experience a strategic approach to workforce management that goes beyond just filling roles. Our dynamic solutions are crafted to align with your business objectives and drive long-term success.

Innovative Talent Strategies
At Employment Exchange LLC, we're not just keeping up; we're setting the pace. Benefit from innovative talent strategies that attract, nurture, and retain the best professionals in your industry.

Collaborative Partnership
We believe in the power of collaboration. Our team becomes an extension of yours, working together to understand your unique needs and provide customized solutions that reflect your company's vision.

Global Reach, Local Expertise
With a global perspective and a deep understanding of local markets, Employment Exchange LLC offers a unique blend of global reach and local expertise. Wherever your business operates, we're there to support your workforce needs.
Our Vibrant Workforce Solutions Portfolio
Strategic Workforce Planning
Gain a competitive edge with our strategic workforce planning services. Anticipate talent needs, identify skill gaps, and build a workforce that propels your business forward.
Talent Acquisition and Recruitment
Find the right talent, faster. Our recruitment experts leverage innovative sourcing techniques and cutting-edge technology to connect you with the best candidates in the market.
Workforce Training and Development
Invest in your most valuable asset – your people. Our workforce training and development programs are designed to enhance skills, foster growth, and keep your team ahead of the curve.
Flexible Staffing Solutions
Adapt to changing demands with our flexible staffing solutions. Whether you need temporary support or long-term placements, we have the agility to meet your workforce requirements.
Diversity and Inclusion Programs
Embrace diversity, drive innovation. Our workforce solutions include comprehensive programs to promote diversity and inclusion, creating a dynamic and collaborative workplace.
Employee Engagement Initiatives
Nurture a positive and productive work environment. Our employee engagement initiatives foster a sense of belonging, contributing to increased satisfaction and retention.
Ready to Transform Your Workforce?
The future of a vibrant, high-performing workforce starts here. Express your interest in Employment Exchange LLC's Workforce Solutions, and let's embark on a journey of unparalleled success together.
Schedule a consultation with one of our IT Experts.